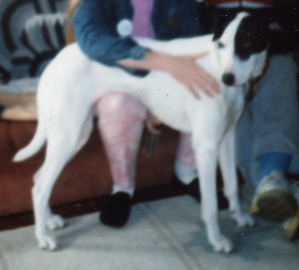 Kahvi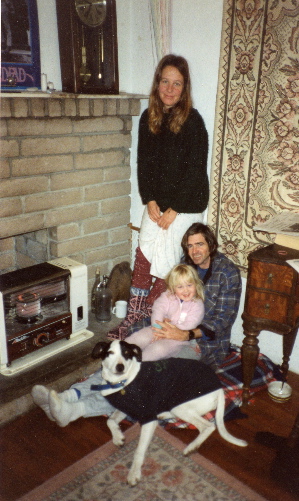 Kahvi and family (Melissa, Avila, Tom) by the fireplace
Kahvi in her older years and Worf the new pup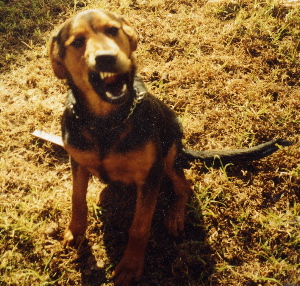 Worf lived on after Kahvi until August 22, 2007.
Since June 1981, I have been living in the same house in West Berkeley on Channing Way. Melissa, my former spouse, and I moved to Berkeley from San Diego in 1980 and spent our first year living in South Berkeley with Bob Berry. We had met Bob at a party in San Diego. At the time, Bob was visiting his old high school friends. After high school, Bob attended UC Berkeley and stayed in the Bay Area after dropping out of college. Bob and I discovered we shared an interest in bicycles.

When we decided we want to move to the Berkeley area, Bob got us in touch with a woman who was vacating an apartment in North Oakland and was looking for someone to use up her last month of rent. Melissa, our daughter Dharma, and I moved into the apartment on Alcatraz Avenue with the hope of convincing the manager to let us stay. It was not to be, and we found ourselves needing to find another place to live at the end of the month. We lived on the street in the back of our pickup truck until Bob felt sorry for us an let us sleep on the floor of his basement flat on Ashby Avenue. Fortunately, this too was a temporary situation when we moved into a vacant bedroom in the flat above that was being leased by a young woman named Loretta. Things went well until the voters of Berkeley, and I count myself among them, enacted one of the strongest rent control laws in the state. The owner of the building responded by deciding to evict his tenants using a loophole that he could kick us out if he intended on moving in himself. While we were able to stall the eviction process, we eventually lost and made a deal with the landlord to let us stay until the end of June. Our daughter was finishing up a year of Kindergarten at a school one block away. The landlord let us stay until the end of the school year and live in the flat rent-free.

We decided to be renters no more and gathered up our money to buy a house together. Bob had several thousand from his mother. Melissa and I did not have much, but I had a steady job in Point Richmond, and my employer allowed me to borrow a couple of thousand from him. Bob had a friend Jane Farnsworth, distantly related to Philo Farnsworth the inventor of television, who, as a single mother with two boys, was looking for a place to live. Melissa and I had a friend from San Diego that we knew from political circles that was also in moving to Berkeley. He had cerebral palsy and was unemployed, but his mother had made a fair amount of money from real estate investments.

Paul's mother started her real estate empire was with seed money won through a contest at a San Diego supermarket. It was a match-and-win style game called Confederate Money. Players would receive one half of a phony dollar bill each time they shopped at the store. If they were able to match two halves of the various denominations they would receive the amount of that denomination in real money. As with most games, Paul's mother discovered that no purchase was necessary. She also discovered another loophole. There was no limit to how many times she could walk into the store and demand one of the half-dollar bills. Fortunately for us, the government of the Confederacy was not as smart as Paul's mother or U.S. history would have turned out a lot different.

With time running out on our tenancy on Ashby Avenue when we found our place on Channing for only $86,000. The property consisted of a two-story Victorian that had been converted into upstairs and downstairs flats and a small, one bedroom cottage next to it. Well restored Victorians were already fetching prices of up to $150,000, but the owner of this Victorian had remodeled it to his own tastes which greatly reduced its value. He was the textbook case of a motivated seller. His health was failing, and he wanted to move back to Louisiana to spend his retirement years. The area was experiencing a housing recession. We were able to buy the property for $86,000.

Our relationship with Paul was the first major conflict. Bob had moved into the cottage, but we found Paul so difficult to live with, we decided to have him switch bedrooms with Bob. Then we decided we couldn't even coexist on the same property and bought out his share of the property. To make the house payments, we started renting out the cottage.

Jane was the next to exit the house after she decided that communal living was not for her. She re-married and settled with her sons and new husband in a house in Oakland.

One of the tenants in the cottage was Chris, a friend from San Diego. Melissa and I had met him at a Rainbow Gathering in the 1970s. I was happy to hear his voice when he called me out of the blue one day, looking for a place to live. The cottage had just become vacant, and I offered it to him without hesitation. Then he cautioned me that I had a dog. "She's a good dog, though you may be concerned she is a Pit Bull." I was concerned. I had a child in the house, and children in the neighborhood would regularly visit. I believed the press that I read about Pit Bulls, that they were bred to kill and no amount of training could fix that. Chris was persistent, and I decided to give him a chance. As it turned out, he was right about Althea. She was a well behaved dog. She was trained by a Vietnam vet who trained dogs for the military. Chris continued her training, and she never harmed a hair on any one of us.

Althea was never spayed because Chris intended to breed her with another Pit Bull. One day, a neighborhood dog jumped the fence, resulting in Althea's first litter. Our daughter Dharma adopted one female and named her Kahvi after a character in a series of comics she collected called Elf Quest.

Kahvi who was born and lived her entire life in our house.

On Thanksgiving of 1998, Kahvi hobbled into the kitchen as I was finishing cooking dinner. She threw up all over the floor, collapsed, and was unable to stand up. She had suffered a massive stroke that paralyzed one entire side of her body. The next morning, Bob and Melissa took her to the vet. The rest of us said our goodbyes, knowing she would not be coming back.

There will never be another dog like her. She impressed us early on in her life when she learned how to open the back door and let herself in by twisting the doorknob with her front paws. Even more impressive was her appetite for books.

Bob started his vast book collection while living in his basement flat on Ashby. When I met him, books covered every available space of every wall. Since moving to Channing, the collection has grown to at least three times that size. If you are looking for a book on conspiracy theories, presidential assassinations, espionage, UFOs the occult, left wing politics, or right wing politics, you can find it here in the form of non-fiction, fiction, and unintentional fiction. With more volumes than available shelf space, many sit in boxes in various places through the house. Bob had a bed he constructed of two large doors nailed to 4'x4's. There was enough room under it for the storage of a half dozen cardboard boxes of books. It was there that I found Kahvi one day. She found it a nice place to nap. I also discovered that she had chewed into one of the boxes and ate off the bindings of several of the books. One was a hardback novel from the early fifties called I Killed Stalin. Printed while the Soviet leader was still alive, it speculated on a possible assassination attempt. Kahvi had eaten off the entire word Stalin from the spine of the book. That is how she became known as the Dog That Ate Stalin.